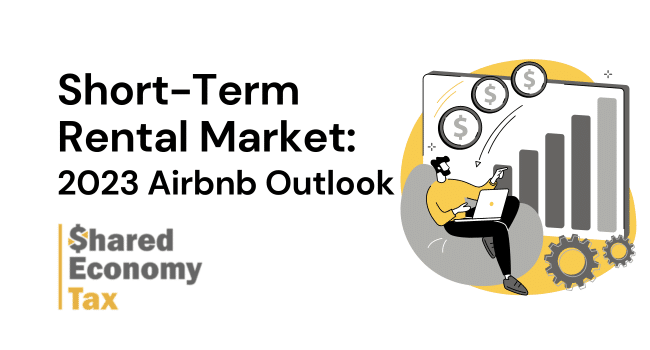 The past few years have been a bit of a wild ride for the short-term rental market. In the earliest days of COVID, the demand for travel dried up quickly. This was followed by a period of high demand as people looked for more remote vacation destinations. While we have yet to determine for sure what the future holds, we have some thoughts on how 2023 is shaping up for the short-term rental market.
What's the outlook for the short-term rental market in 2023?
The market for short-term rentals has become much more competitive in 2023. Large-scale operations have snapped up the rentals and saturated some markets. Additionally, pushback against Airbnb fees and cleaning fees has hit an all-time high.
The recent large-scale layoffs have also dampened the demand for vacations and travel spending.
Overall, AirDNA predicts a drop in revenue per vacation rental during 2023, though their predictions vary significantly depending on the market.
But every short-term rental is unique, and several factors affect the success of your short-term rental: 
Location: 
Location is one of the most significant factors. Properties located near popular tourist attractions, business districts, or areas with popular events will tend to perform better. Accessibility to public transportation or easy parking can also affect the rental's success.
Property Type and Amenities:
The type of property and amenities also greatly influence the rental's success. For instance, having a full kitchen, a good internet connection, a comfortable bed, a washer and dryer, air conditioning, a swimming pool, or other amenities can make a property more appealing to guests.
Price:
Pricing plays a crucial role in the success of a short-term rental. A competitive price with local hotels and other short-term rentals will likely attract more bookings.
Cleaning and Maintenance:
Cleanliness is a big factor that can affect guest satisfaction and subsequent reviews. A well-maintained, clean, and tidy property will help to attract and retain guests.
Host Responsiveness:
Good communication and responsiveness to guest inquiries can help enhance the guest experience, leading to better reviews and more bookings.
Marketing:
Good photographs and a clear, detailed property description can help attract potential guests. The higher the property is ranked and reviewed on rental platforms, the more visibility it gets.
Regulations:
The local legal environment can also impact the success of short-term rentals. Some jurisdictions have strict regulations or even bans on short-term rentals, so it's important to understand and comply with any laws or regulations in your area.
Ratings: 
Positive reviews and high ratings attract more guests. Therefore, ensuring a pleasant and comfortable stay for guests is key.
Local Events and Seasonality:
The time of year and local events can significantly impact the demand for short-term rentals. For instance, properties may be more popular during local festivals, sporting events, or peak tourist seasons.
What factors will drive the short-term rental market in 2023?
Several key factors will affect the short-term rental marketplace throughout the rest of 2023.
High-Interest Rates
Anyone who has looked at obtaining or refinancing a mortgage is well aware that the historically-low interest rates are no longer available. Most new mortgages are in the 6-7% range, and home equity loans can be even higher. This means fewer people can afford to purchase a new rental property, and any new purchases will be riskier.
It also means that if you are looking to sell your rental property, finding a buyer who can afford it will take more work.
High-interest rates don't just affect individuals; private equity and venture capital firms can also have difficulty raising cash when rates are high, so there could be less demand from deep-pocketed buyers.
The high-interest rates benefit buyers with significant capital available or have secured favorable financing terms. The high-interest rates have led many sellers to drop prices from where they were over the past couple of years.
Slowing Demand
During 2021 and 2022, the short-term rental market saw growth of 15-20%, depending on which measure you look at. The increase in remote work, additional leisure travel, and a rise in digital nomadism drove this demand. These factors led to longer (and more profitable) books.
Hotels took notice of the increased demand for Airbnbs and have adjusted their pricing and services to better compete with short-term rentals.
Historically Hot Markets are Slowing Down
Historically, some markets have performed well since the inception of Airbnb, like San Francisco and New York. But the real estate market in these locations has changed significantly over the past few years.
Both cities have seen significant portions of their populations leave the cities, which has upended the demand for real estate – both purchases and rentals. Many long-term rentals were switched to short-term rentals as the need for long-term rentals dried up.
Other cities have implemented significant restrictions and strict licensing requirements for short-term rentals, affecting the availability and cost of running an Airbnb. Hosts are responding to these declines by raising pricing or leaving the market entirely.
However, the demand in most markets is still increasing – you'll just need to do a little more research to find which markets align with your budget and goals.
Higher Nightly Rates
Nightly rates have continued to increase in the first half of 2023, but the rate of increase has decreased significantly. During the pandemic, rates increased an average of 12% a year, while 2023 is on track for a 1.7% increase, according to a Key Data report.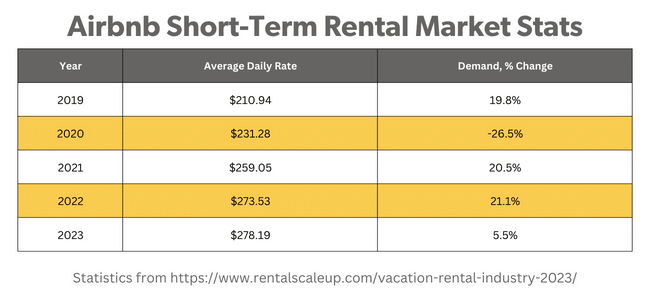 Profitability
The short-term rental market in 2023 presents a potentially promising outlook for owners as demand and prices should rise. This increase in demand suggests that more travelers are opting for these accommodations, presenting hosts with opportunities for higher occupancy rates and revenues.
This bright picture may not be uniform across all areas. In some locales, increased competition from more listed properties could exert downward pressure on occupancy rates and pricing. Furthermore, tighter regulations in certain regions may lead to increased operational costs and restrictions.
New Growth Markets are Emerging
The largest areas of increase are coastal markets which have seen a 25% increase in demand compared to 2019. Urban markets are the only area showing decreased demand compared to pre-pandemic demands.
New 1099 Reporting Guidelines
Originally, new 1099K guidelines were scheduled to take effect in 2022, but due to administrative problems, the guidelines were delayed a year.
Under the previous rules, taxpayers only received a 1099K if they had over $20,000 of sales processed through a third-party payment platform (like VRBO or Airbnb) or more than 200 transactions.
The new rules taking effect in 2023 require payment processors to issue 1099s to anyone that has more than $600 of sales, which means that many hosts will be receiving 1099s for 2023.
It's always a requirement for hosts to report all their income, but now the IRS will be able to better verify that all that hosts are diligently reporting their hosting income. The change has also driven many hosts away from the Airbnb and VRBO platforms, but the majority have accepted the change since other payment platforms have the same reporting requirements.
What Else Should Airbnb Hosts Expect in 2023?
In 2023, Airbnb hosts can expect an evolving landscape due to increased demand and higher nightly rates. This might result in increased revenue but also attract greater competition as more property owners enter the market. Rising interest rates could slow the real estate market, possibly increasing the rental pool but raising operational costs for hosts with mortgages.
Rising rates may also escalate guest expectations, compelling hosts to ensure superior service and amenities. Regulatory scrutiny may tighten, potentially affecting profitability. Changing demographics due to price shifts could alter the types of properties and services in demand. Hence, hosts could face more volatility and competition, necessitating adaptation and innovation.
Our Top Tips for Short-Term Rental Market Success During 2023
You can maximize your short-term rental income for 2023 and beyond in several ways.
Pricing Strategy:
Monitor your local market regularly and adjust your prices accordingly to stay competitive. Use dynamic pricing tools like Beyond Pricing to optimize your rates based on supply and demand trends.
Enhance Guest Experience:
Invest in and improve your property's amenities and services to meet and exceed the increasing guest expectations. Prompt communication, personalized touches, and ensuring cleanliness can greatly enhance guest satisfaction.
Local Regulations:
Stay updated on local regulations affecting short-term rentals in your area. Understanding these rules and adapting your business model can help avoid unexpected fines or operational challenges.
Online Presence:
Make the most of online platforms by improving your listing's photos and description. Encourage satisfied guests to leave positive reviews and respond promptly and professionally to negative feedback.
Partnerships and Networking:
Partner with local businesses or tourism boards to offer unique experiences or discounts to your guests. Networking with other local hosts can also help you stay informed about trends and challenges in your area.
Closing Thoughts on the Short-Term Rental Market
The short-term rental market in 2023 contains both opportunities and challenges. Higher demand and rising nightly rates signal the potential for increased revenue but also indicate a more competitive environment and higher guest expectations. The effects of high-interest rates in the real estate market will affect the rental market, potentially driving more people towards rentals and raising costs for hosts with mortgages.
Hosts' success will depend on their ability to adapt and innovate as guest demographics and expectations shift. This might involve adjusting pricing strategies, enhancing guest experiences, complying with local regulations, and maintaining a strong online presence. Hosts must stay informed about market trends and prepare to react quickly to changes.
Shared Economy Tax specializes in developing money-saving tax strategies for Airbnb hosts and short-term rental operators. Our advisors pull out all the stops to find innovative ways to save you money on taxes. Contact us now to schedule a complimentary one-on-one strategy.
---