Over the last several years, the Sharing Economy has been making waves in the way we conduct business. The Sharing Economy has impacted everything from how we shop, drive, travel, store our belongings, walk our dogs, and even eat. With what seems like the overnight success of Uber and Turo car rental (or Turo), the Sharing Economy paved the way for motivated individuals with an entrepreneurial spirit to make substantial part-time and, sometimes, full-time income. In fact, many business owners who share their cars have scaled their business to encompass hundreds of cars. These fleet owners grabbed the bull by the horns and made car-sharing into very successful businesses.
When business is booming, you may be looking for new ways to expand your enterprise. For fleet owners, Turo makes a lot of sense. If you are just getting started or even if you are a seasoned fleet owner, you may be wondering about the benefits of renting on the Turo platform.
What Is Turo?
Founded in 2010, Turo is a personal car rental app that initially went under the name RelayRides. Turo allows drivers to rent a car from someone nearby. 
Many car renters consider Turo to be the best car rental app. Turo has over 10 million users across the US, Canada, the UK, and Germany. Users can choose from over 350,000 different makes and models. 
Turo car rental helps owners offset the price of owning a car and earn extra income. It also provides more affordable options for renters and offers them more variety. Car sharing helps keep the number of cars on the road to a minimum. Fewer cars create less traffic and reduce carbon emissions.
How Does Turo Work?
Turo enables care owners to rent out their vehicles when they aren't using them. The signup process is pretty easy and straightforward. Fleet owners can choose to allow Turo to set prices, or they can set prices manually according to their preferences.
Turo calculates pricing by considering a variety of factors, including the market value of your car, time of year, and location. To ensure safety, Turo covers your car with 1 million in liability insurance as well as 24 hr roadside assistance. Renters also undergo an extensive background check. 
Once fleet owners make their cars available on the app, a user can express interest in the vehicle and arrange a meet to pick up the vehicle. It costs nothing to list a car, however, Turo does charge a 10%-35% usage fee. The rate varies depending on additional insurance coverage.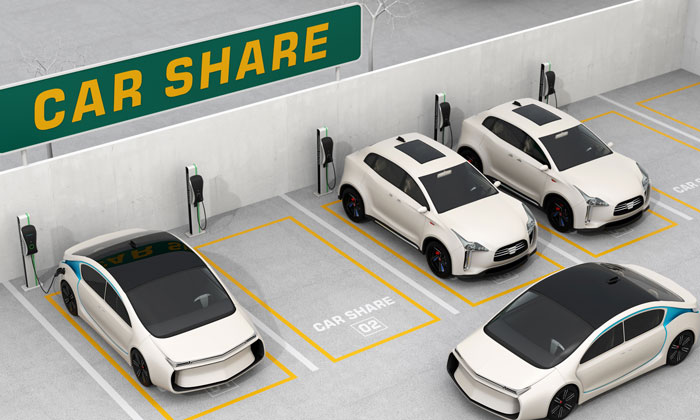 Turo Car Requirements
To list a vehicle in Turo, the vehicle must meet certain requirements.  In the US the vehicle must be registered in any state except New York and have a clean title. The vehicle must also meet insurance and state requirements. 
Cars listed on Turo must have less than 130,000 miles and have a market value no greater than $150,000. Vehicles must be no older than 12 years old unless listed as a specialty vehicle, in which case the vehicle must be model-year 1990 or older and have a market value of no more than $85,000. Specialty vehicles must meet safety requirements and be in excellent working condition. Additional review may be required for specialty vehicles.
All vehicles listed on Turo must meet maintenance and safety requirements. In addition, Turo's Exclusivity Policy states that the vehicle must be exclusively listed on Turo. Listing the vehicle on other car-sharing sites is prohibited. Failure to comply can result in account restrictions, fines, and removal from the platform. 
Turo Age LImit
Fleet owners looking to list their vehicles with Turo Car Rental must be at least 21 years old. There are also age limits for renters; renters must be at least 18 years old in the US. For drivers under the age of 21, they are automatically enrolled in a minimum protection plan. This plan is required and cannot be declined. A young driver fee is assessed for drivers between the ages of 18-25. This fee is a percentage of the trip up to $15- per day. The percentage charged is based on the age of the driver.
Turo Alternatives
Several other car-sharing companies have emerged over the last several years. The most well known Turo competitor is GetAround. Some other car share alternatives include Zipcar, Car2Go, and Enterprise CarShare. 
Is Turo Legit?
With almost 10 years in business, Turo offers a completely legitimate way to earn an income off of your vehicles. By listing Vehicles with Turo, fleet owners gain wide visibility of Turo's audience. By providing a detailed description and pictures of the vehicles, they increase their visibility. Turo offers rentals in several countries worldwide including the US, Canada, the UK, and Germany.  
Does Turo Car Rental Affect Taxes?
Anytime you generate an income, the IRS wants to know about it. So regardless of if you are generating part-time or full-time income, do yourself a favor and report your earnings. Your car-sharing business is considered 1099 income, for which you may or may not receive a 1099-K from Turo. Turo will issue a 1099 -K if you earn more than 20K in revenue and have more than 200 transactions. So, even if you earn less than the threshold you are still responsible for reporting your income. Aside from reporting your income, you may be subject to quarterly tax payments as well as self-employed taxes. If you expect to owe more than $1,000 in taxes, you need to start paying quarterly taxes. 
Taxes are confusing for many business owners. Which is why so many taxpayers choose to outsource their tax preparation. The more complicated your tax situation becomes, the better off you are hiring a tax advisor. A tax advisor can help you with your accounting process, tax planning, tax compliance, and tax preparation. Regardless of if you are just getting started or are a seasoned fleet owner, you probably have some tax questions regarding your business. The tax and accounting experts at Shared Economy specialize in the Sharing Economy including car sharing.
Turo car rental is a great way to get the most out of your vehicles. To learn more about Turo and how car-sharing can affect taxes for Turo fleet owners, subscribe to our free newsletter now.