One of the most important decisions you can make for your accounting process is which accounting software to go with. There are several different options available, but the two that reign supreme are Quickbooks and Xero. Both are very powerful and boast impressive features. So which one should you choose? Let take a look at which is the best accounting software for your business.
Quickbooks
Quickbooks has been around for a while. Due to its longevity in the game, Quickbooks is the most well-known accounting software. Many people choose Quickbooks because of its reliable history and its impressive list of standard features. Here are some standard features you can expect from Quickbooks:
Invoicing

Accounts payable/account receivable

Check printing

Bank account synchronization

Account reconciliation

Expense tracking

Sales tracking

Financial Reports

Sales tax

When using Quickbooks, there are several different pricing options and range in price from $10-$60 per month. Some of the advanced features include:
Inventory tracking

Time tracking

1099 contractor management

Project profitability

Payroll
Some of the most compelling reasons to go with Quickbooks are its dependability and functionality. You also have more standard templates and choices when it comes to invoicing with Quickbooks, as well as built-in packing slips. In addition, Quickbooks is pretty straightforward in terms of user-friendliness. In addition, the Quickbooks app makes keeping track of expenses and accessing your information while on the go easy. Quickbooks built-in lending feature also makes securing funds for your business easy by utilizing the information you have directly in Quickbooks to qualify you for a loan. Quickbooks lending is backed by Intuit, so the entire process is seamless.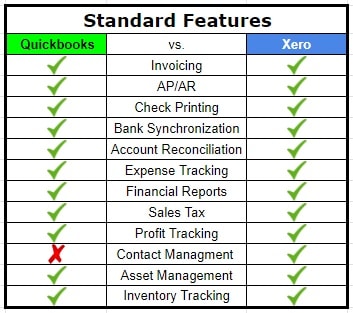 Xero
Xero, while not around nearly as long as Quickbooks has made quite a name for themselves over the last several years. Xero, in fact, rivals Quickbooks with many of their standard features. Many people choose Xero because of its capability and the fact that you can have unlimited users. Some standard features for Xero include:
Invoicing

Accounts payable/accounts receivable

Check printing

Bank connections

Bank reconciliation

Expense tracking

Inventory tracking

Profit tracking

Financial reports

Sales tax

Contact management

Asset management

Like Quickbooks, Xero also has several tiers available that range in price from  $9-$60 per month. Some additional features available with the more advanced options include: 
Project management

Payroll

Multi-currency
Many people choose to go with Xero because of their ease of use and they have the most impressive security reputation. Xero has the most secure network in cloud-based accounting with a 99.97% uptime. Xero also boasts over 700 integrations, which gives you more choice when it comes to running your business.
Our Take
While both Quickbooks and Xero offer impressive features and are both reliable and capable accounting software programs, we prefer Xero. And here's why: Xero is user-friendly and their security reputation is unparalleled. In addition, because of all of the customizable features on Quickbooks, it can be more confusing to use. We also find that a lot of our clients prefer Xero because they can specify more criteria when running reports, so they receive the exact data they are looking for. For example, our property managers have the ability to break up profit and loss statements by unit or owner. If they are renting properties on Airbnb, they have more flexibility while managing their client's units.

Having the rights tools can make a huge difference in your accounting. It is important to go over the particulars to find the best accounting software for your business. Accounting software isn't a one size fits all. Make sure that the accounting software you choose is best suited for the needs of your business. For more information on the best accounting software for your business and other accounting tips, contact Shared Economy today!

Related Articles 
Airbnb, HomeAway, & VRBO Ultimate Tax Planning Guide & Checklist
Best Airbnb, HomeAway, VRBO Tax Accountant Professional
3 Insanely Important Tax Tips For Airbnb Hosts