As a an Airbnb host, the money you earned from renting out a room in your apartment or house is considered income, and you therefore may have to pay income taxes on those earnings.  If you are expected to owe more than $1,000 in 1099 taxes, you are required to pay quarterly taxes on those earnings.

Airbnb will send you a 1099 form at the end of the year showing the gross amount of money you have earned as a host.  A 1099 means that there has been no income tax withholding on these payments.  What does this mean for you?  At a "traditional" job, when a person is paid on a regular paycheck, your employer automatically withholds and regularly pays all of the necessary employee income taxes as required by the IRS. These taxes include: Federal Income Tax, and FICA (Social Security and Medicare). When a person is paid on a 1099 form, all money earned by the individual is paid on an untaxed basis

Every quarter, you are required by the IRS to estimate your Airbnb taxable income for the year and pay your estimated tax liability for the quarter. Therefore, at a minimum, you should set aside money every quarter for quarterly estimated tax payments, which can include self-employment taxes.  Estimated tax payments are due April 15th, June 15th, September 15th and January 15th for the current year.
You file your estimated taxes using a voucher called a 1040-es, which looks like this: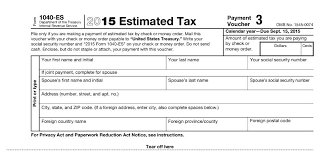 There are two methods to calculate your quarter estimated tax payments.  One method is to use the safe harbor rule which can simply be calculated by taking 100% of your last year's tax liability and dividing it into 4 payments. The more precise method is to annualized your estimated Airbnb income and deductions for the year and then calculate the liability for the quarter.  What this means is that you pay tax on the income as you have received it.  The amount you set aside and pay quarterly for taxes depends on what your net taxable income is likely to be when all is said and done.  Other items such as outside earnings and withholding's and other credits are also factored into this payment.

Once you've figured out your tax liability and completed the form, mail the coupon along with your payment to the IRS.  Check the IRS.gov web site for the correct address to mail it to, which depends on your state of residency.  Not making estimated tax payments can also mean in a higher tax bill come April 15th, since the IRS can assess a penalty for not paying your taxes as earned.  
If you feel like you need help with your estimated tax payment, please feel free to book us for any additional tax questions that you may have.