Running a successful business involves complex decision-making, precise planning, and meticulous execution. One of the crucial first steps towards launching a successful business venture is setting up a dedicated business bank account. Your business bank account gives your company a strong foundation for transparent and compliant finances.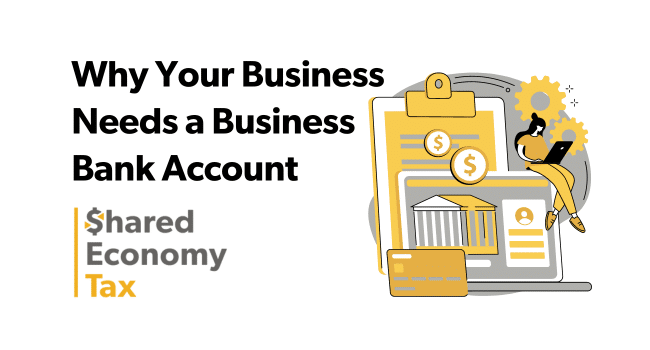 Here's what you need to know about business bank accounts and why they're so important in the modern business landscape.
Understanding the Importance of Separate Books for Business
Separating personal and business finances is not just convenient, it's necessary. Maintaining dedicated business accounts provides essential legal protection for both your business and personal assets.
When you separate personal and business finances, you create a legal distinction that protects personal assets from legal claims against the business. Furthermore, the lack of separation can even lead to a piercing of the corporate veil, affecting your legal protections.
A dedicated business account enhances your company's professional image. It shows potential clients and suppliers that you conduct your business with seriousness and integrity. Furthermore, keeping all your business-related transactions in one account simplifies expense tracking, bill payments, and many other areas of your business. All of these attributes are a high priority in any well-organized operation.
The logistical benefits of business banking also include simplified accounting, as well as more streamlined tax preparation and compliance. Most importantly, keeping personal and business transactions separate encourages financial discipline and transparency, qualities that are crucial for the growth and sustainability of any up-and-coming business.
Logistics of Setting Up a Business Bank Account
Setting up a business bank account starts with several important considerations.
First, take a minute to think about your business needs. Do you handle lots of cash? Do you expect to receive international wires? Hire employees? These are just a few questions you should ask yourself when considering a business bank account. Your answers will help you decide whether you need features like overdraft protection, payroll, and other facilities that could align with your business operations.
Next, you'll need to assemble and prepare the necessary documents. You'll need to know the legal name of your business, and your business must have a federally-issued EIN.
You'll also need identification, plus Articles of Incorporation, partnership agreements, or other legal documents that might be required. The documents you'll need will vary depending on your business structure, but they'll generally want to see formation documents and tax info.
Lastly, choosing the right bank or credit union is vital. Consideration of all potential fees, including monthly maintenance and transaction charges, should be weighed. You should also consider areas like customer support, service quality, and access to online banking.
Exploring Online Banking Solutions
The importance of reliable online banking solutions cannot be overstated in our increasingly connected world. When choosing an online banking solution, automation and easy integration with accounting software should be among your foremost priorities.
Novo
Novo is known for its user-friendly online setup and a transparent, no-hidden-fee approach. Further, it's a great all-around option for businesses of various sizes.
Relay
Relay offers robust features and integration with popular accounting software and attentive customer service and support. B2C and other consumer-facing businesses may be a good fit for this option.
Mercury
Mercury provides innovative banking solutions for tech startups with a strong emphasis on clear and upfront information about its services and fees. SaaS, IoT, DevOps, and other move-fast-and-break-things companies may want to start here.
You should carefully consider whatever option you choose whether a platform can integrate with accounting software like XERO and QuickBooks, since accounting software is an essential component of effective financial management.
Good software can save you tons of time and provide convenient benefits like real-time financial tracking and automated analysis. Again, it can also enhance collaboration between different departments with automated reporting and other intuitive features.
There are many options on the market, but the best choice will depend on your business model, entity structure, and operation needs. Any of the three examples listed above would be an excellent place to start.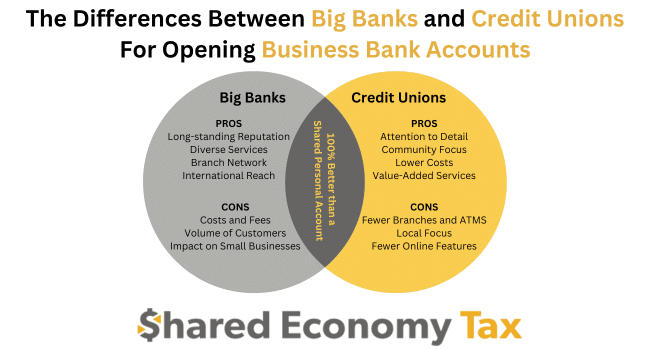 Pros and Cons of Big Banks
Big banks come with the allure of stability and a long-standing reputation for reliability. What's more, they often offer a comprehensive range of banking products and services, providing convenience through an extensive branch network. For businesses with international operations, big banks may be a suitable option.
However, higher service costs, complex fee structures, and sometimes less personalized attention might offset these advantages due to a large volume of customers. This lack of individual focus can particularly impact small businesses that might require more tailored support.
Pros
Long-standing Reputation: Big banks usually have a history of reliability.
Diverse Services: Offer a wide array of banking products and services.
Branch Network: More branches and ATMs provide convenience.
International Reach: Suitable for businesses with overseas operations.
Cons
Service Costs: Might have higher costs for some services.
Consider Total Costs: Understanding the entire cost structure can be complex.
Volume of Customers: A large client base can lead to less personalized attention.
Impact on Small Businesses: May not cater specifically to small business needs.
Pros and Cons of Small Credit Unions
In contrast to big banks, small credit unions often present a more personal touch. Additionally, attention to individual client needs and alignment with local community values can create a more comfortable banking experience. Competitive rates, lower costs, and value-added services tailored to small businesses might further tilt the scale in their favor.
However, the limitations of smaller institutions include fewer branches, potentially limiting accessibility, and sometimes a lack of cutting-edge technology and digital services. Evaluating these features in light of your business needs is essential.
Pros
Attention to Detail: Often more focused on individual client needs.
Community Focus: It may be more aligned with local community values.
Lower Costs: Often offer better rates and lower fees.
Value-Added Services: It may provide additional services tailored to small businesses.
Cons
Accessibility: Fewer branches can limit accessibility.
Local Focus: It might not suit businesses needing broader geographical services.
Online Features: Smaller institutions may require more cutting-edge technology.
Digital Services: Evaluate the available digital services to ensure they meet your needs
Conclusion: Business Bank Accounts are a Critical Business Decision
Establishing a business bank account should be one of the first steps to start a new business. Separating business assets in a dedicated account improves legal protection and enhances your company's professional image.
Choosing the right bank can be tricky, as every choice has potential benefits and drawbacks. However, there are plenty of great options. Furthermore, carefully considering your business's unique needs and goals will give you the best chance of making the right choice.
Fortunately, building your business's financial foundation doesn't have to be a solo task. The tax experts at Shared Economy Tax have been helping up-and-coming entrepreneurs get their business on finance on track for years, and we can help you take your business to the next level. Get started today with a one-on-one strategy session with a Shared Economy Tax pro to see how we can help your business reach its ultimate potential.