If you participate in the sharing economy by working as a 1099 contractor or by renting your home on Airbnb, you know that you will likely be required to pay taxes on your income. But just how much do you need to save in order to cover your estimated tax payments? This brief guide will help you effectively manage your Airbnb and 1099 taxes. If you're an Airbnb host, you should also check out our specialized post on Airbnb estimated tax planning.
As an independent contractor, you're responsible for paying self-employment taxes. Plus, you also have to pay income tax. Unlike W2 employees, you don't have an employer withholding taxes from your paycheck. As a result, you're probably going to owe the IRS money at the end of the year. However, the IRS doesn't want to wait twelve months for its money, so they expect you to make quarterly estimated tax payments in advance. This might seem tricky at first, but you can easily calculate your estimated tax payments once you understand the process.  Remember, every payment you make will go towards your taxes at the end of the year, so think of your quarterly tax payments as money down on your year-end tax bill.
1099 Contractors and Freelancers
Most sharing economy workers are 1099 contractors for tax purposes. However, you can avoid 1099 contractor status if you formed a corporation for your business. The IRS taxes 1099 contractors as self-employed. If you made more than $400, you need to pay self-employment tax.
Self-employment taxes total roughly 15.3%, which includes Medicare and Social Security taxes. Your income tax bracket determines how much you should save for income tax. For example, if you earn $15,000 from working as a 1099 contractor and you file as a single, non-married individual, you should expect to put aside 30-35% of your income for taxes. Putting aside money is important because you may need it to pay estimated taxes quarterly.
The key thing to note for independent contractors is that self-employment taxes are assessed on net income, not gross. So you'll need to calculate your net income by subtracting deductions from your gross earnings.
Estimated Taxes for Airbnb Hosts 
First, Airbnb hosts should determine if their rental income is taxable. The amount of taxes you owe depends on how many days you rent your place. Do you rent for less than 15 days per year? Do you reside in your property for more than 10% of the total time you rent it or 14 days, whichever is greater? If so, you don't have to pay any taxes on your rental income.
However, if you rent for more than 15 days per year, you then need to make sure that you have put aside money for income tax. As a rule, Airbnb withholds 28% of your income for taxes if you do not provide them with a W-9 form. Although your effective tax rate will likely be lower than 28%, it helps ensure you have enough to cover taxes.
Additionally, you may also be liable for state and local taxes related to your rental income. If your jurisdiction requires that you pay Transient Occupancy Taxes (TOT), Airbnb will automatically deduct and remit the payment of TOT on your behalf. While you do not have to put aside more of your earnings to cover these taxes, you should just be aware that this money will be taken from your earnings upfront.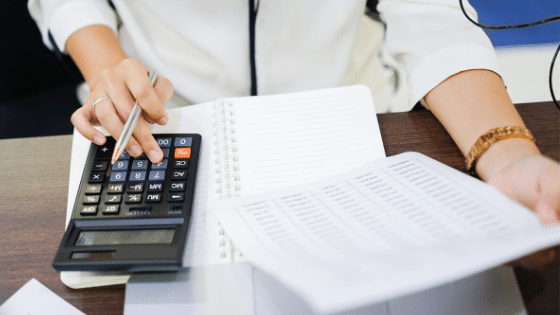 How to Calculate Estimated Tax Payments
One way to calculate estimated taxes is to use the safe harbor rule. The safe harbor rule can protect you from IRS penalties for underpaying your taxes. Typically, underpaying your taxes can result in fines and interest. However, you can avoid penalties if you satisfy the requirements for the safe harbor rule.
The IRS won't penalize you if your payments meet the safe harbor guidelines. Basically, the safe harbor rule protects you as long as your payments equal more than 90% of the previous year's tax bill. Therefore, you can use the safe harbor rule to determine your estimated tax payments and avoid costly penalties.
To calculate estimated taxes under the safe harbor rule, start by taking 100% of the taxes paid on last year's return. Then, divide last year's total taxes by four. The resultant total is your quarterly obligation under the safe harbor rule. As long as your payments cover this total, you're protected from penalties. You might owe additional taxes if you made more than you did last year, but the IRS won't knock you for underpayment.
To avoid owing year-end taxes, you can also annualize your estimated 1099 income and deductions. However, accurately forecasting your income for 12 months is difficult. You can also use your business's quarterly earnings to calculate your estimated tax payments. If you happen to overpay, the IRS will return the excess through a tax refund.
Local Tax Regulations
You must also account for local taxes. Depending on where you live, you might have to pay state, county, and city taxes too. Consult with your local tax office to determine you local obligations. All and all, your total tax bill can total as much as 40% of your income. That sounds high, but federal, state and local taxes can add up fast.
How Much Should I Set Aside for Taxes 1099?
You don't want to come up short at tax time, so make sure you have enough money left over to cover your taxes. Many small business owners set aside 30% of their gross income to cover tax payments. Setting aside a percentage of your income in this fashion is a prudent move. You can adjust the percentage as you see fit, but you should have enough to cover your taxes if you save 30%. This is more than enough for most taxpayers, so you could end up owing less than you saved. In this case, you can take the leftover balance and pretend it's your own personal tax refund!    
To see how we estimate tax liability for 1099 contactors, watch our Webinar excerpt below.
Where to Mail Quarterly Tax Payments
After you determine what you owe, you need to send your estimated tax payments to Uncle Sam. The first option is to mail a check or money order to the IRS. You should also include any quarterly tax forms, like form 1040-ES. The IRS mailing address changes depending on where you live, so read the instructions on IRS Form 1040-ES to find out where to send it. 
You can find form 1040-ES here.
How to Pay Estimated Taxes Online?
You also pay your estimated taxes online through the IRS website. The IRS receives your payment almost immediately when you pay online. Plus, you don't have to worry about your payment getting lost in the mail. The system provides a confirmation number for all payments so you have proof if you run into any problems. Best of all, you can easily make payments from the comfort of your own home. No stamps required!
To learn more about paying estimated taxes online, check out our detailed blog post on the topic.
Quarterly Tax Deadlines
You need to send in your estimated tax payments four times per year. If you don't submit your payments before the quarterly deadline, the IRS could penalize you. These are the typical deadlines for quarterly estimated tax payments.
First Quarter Deadline: April 15th
April 15th is tax day, but it's also the due date for first-quarter taxes. You need to pay income for income earned in January, February, and March by April 15th.
Second Quarter Deadline: June 15th
Second-quarter taxes need to be paid by June 15th. Your payment should cover income from April and May.
Third Quarter Deadline: September 15th
Estimated tax payments for income from June, July, and August are due on September 16th.
Fourth Quarter Deadline: January 15th
This is the biggest payment of the year. It includes four months: September, October, November, and December.
2020 Estimated Tax Deadline Changes
COVID-19 threw a monkey wrench into this year's tax schedule. The IRS pushed back most of the major tax deadlines to offer some relief. This year, 2019 taxes are due on July 15 instead of April. The IRS also postponed Q1 and Q2 estimated tax payments until the extended deadline on July 15. As a result, tax day 2020 is going to be a very busy day. You have to submit your 2019 tax return and pay any outstanding 2019 tax obligations by the July 15 deadline. Plus, it's also the last day you can send in your first two quarterly tax payments for 2020.
Tax Extensions
Quarterly taxes don't apply to everyone. However, if you owe, you need to pay or you're risking consequences. Make sure you have all of your ducks in a row before these deadlines. If you don't think you're going to have your taxes ready by tax day, you can request a tax extension. This will buy you some extra time to file and pay your taxes. Filing a tax extension will pushback your deadline to file until October 15. Click here to learn more about the easy way to file an automatic tax extension. 
Get Tax Help Now 
Taxes are complicated, but you don't have to go it alone. The tax pros at Shared Economy Tax specialize in taxes for 1099 contractors, freelancers, and other Sharing Economy participants. We have extensive expertise in this field that general CPA firms simply can't match. Our certified tax pros are eager to answer your toughest tax questions, so schedule a chat with one of our experts today. Get started now with a no-obligation one-on-one strategy session with one of our certified tax pros. Trust your taxes to the team that specializes in serving businesses like yours and chat with one of our tax experts today.