The tax code is complicated and confusing for many taxpayers. To make matters worse it is ever changing and evolving, which makes it nearly impossible for most  business owners, who already have their hands full, to keep up-to-date. This is partially what makes tax preparation so daunting for many, so is the idea of the IRS knocking on your door.. Most taxpayers are looking to simply pay their taxes correctly and on time, and perhaps save a little money in the process. Here are some of the most common tax questions we see from our clients.
Basic Tax Questions You Should Be Asking your Preparer
Uncertainty can tend to bring forth a lot of questions. And when it comes to taxes, it's a subject many business owners and operators should be asking more questions about, since it can directly affect your financial well being. As tax professionals, we live, eat, and breathe taxes. We have spent countless hours studying and learning the tax code so that you don't have to. However, even under the guidance of a tax expert, it is still a good idea to ask the right tax questions so you can get a solid grasp of the tax rules that will affect you. Asking the right question can sometimes be the difference between owing taxes and getting a refund. Other times it means you've overpaid thousands of dollars to Uncle Sam. The following are 5 of the most common tax questions.
Should I Take The Standard Deduction or Itemize?
The decision to take the standard deduction vs. itemizing your deductions will depend on your personal situation. Standard deductions were recently raised as part of the Tax Cuts and Jobs Act, making the standard deduction more appealing but also making the threshold for electing the itemized deduction more difficult, since you need more itemized deductions to "beat" the standard deduction that is a 'freebie' deduction. For single filers the standard deduction is now $12,000, for taxpayers filing as head of household its $18,000, and for married taxpayers filing jointing its $24,000. When you itemize you are adding up all of your individual deductions. If your itemize deductions exceed the standard deduction, then it makes more sense to itemize and vice versa.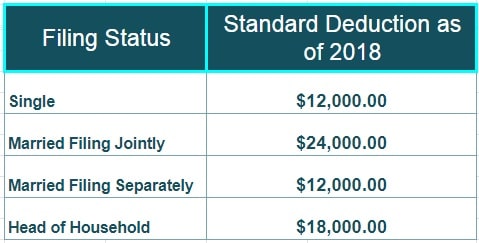 Do I Need To Pay Taxes On All Income?
In short, the answer is yes. Any income you earn, whether it is income you earn at a job, self employed income, or income you earn on a side hustle, the IRS wants it reported. If you work as a freelancer or are self employed, you will probably receive a 1099. If you run an e-commerce store online, or participate in the sharing economy to earn extra money, you will receive a 1099 if you earn over 20K and complete over 200 transactions within the year. This income must be reported in order to avoid being under the scrutiny of the IRS and costly penalties. To ensure that you are able to meet your tax obligations, it is advised to set aside 20-30% of your income in a tax savings account.
In addition, if you expect to owe more than $1,000 in taxes, you should be paying quarterly taxes. Since and employer isn't withholding taxes from your pay, you will be responsible for remitting these payments to the IRS 4 times a year: April 15, June 15, Sept. 15, and Jan. 15.
What Is The Difference Between Exemptions, Deductions, and Credit?
This is a really common tax question. Most people know all of these things lower the amount you pay in taxes, but don't really understand how they work. Exemptions and deductions both work to lower your taxable income. Exemptions take into account your filing status (filing single or jointly) and the number of dependents (spouse or children) you can claim. Deductions represent expenses you incur throughout the year. Some common deductions include business expenses like rent on your office space, operating costs like electricity, insurance, travel expenses, and professional fees.
Tax credits reduce your tax bill dollar for dollar. So if you receive a $1,000 tax credit, you will owe a $1,000 less. Some examples of tax credits include child care, retirement account contributions, or the R&D tax credit for innovation and developing new technology and procedures.
How Can I Reduce The Risk of An Audit?
An audit can be a scary thing, which is why most taxpayers would prefer to avoid one. The best advice we can offer it to always file on time, file the correct forms, file accurate tax returns, and always be honest. If you are reporting all of your income and paying the correct amount, you should have nothing to worry about. Some audit triggers include:
Making too much money. If you earn a substantial income, the IRS is more likely to want to take a closer look. This is why it is important to make sure you dot all of your i's and cross all of your t's. In addition, immaculate record keeping is a must. Keep track of everything, all transactions, cash flows, and receipts.

Taking too many deductions. Being too liberal with your deductions can also wind you up in the hot seat. Deductions are a great thing, but being excessive and stretching the truth when it comes to deductions is a huge no no. Utilize deductions that are applicable to your business.

Failure to report taxable income. The IRS wants all income reported, even income you earned on the side. If you are earning 1099 income, you must report it and it must match the amount reported to the IRS by the issuer of the 1099. For example, if you have a shop on Amazon or share your car on GetAround, and you make over 20K and have over 200 transactions, Amazon will issue a 1099. This is also reported to the IRS. Make sure there are not discrepancies.
Again, we cannot stress enough how important it is to maintain good records. This way if the IRS has any questions, you have a paper trail to provide them. Working with a tax professional is a great way to ward off an audit, and in the event of an audit can provide valuable insight and guidance.
Should I Hire A Tax Professional?
Hiring a tax professional is always a smart choice. Especially if you have a complicated tax situation. Do you own your own business? Do you receive multiple streams of income? Do you conduct business in other States? These are just some of the scenarios that can get a little complicated. A tax advisor is educated in the tax code, which saves you time from learning it. And since they do taxes for a living, they are also more efficient at it, plus the peace of mind you get is well worth the cost. In addition, a tax advisor can be a lot more than just a tax preparer. They can help you strategize throughout the year so that you are in the best possible situation when it comes to tax season. They can assist with financial planning, business planning, help yous stay compliant, and even streamline your accounting process.
Do you have tax questions? All you have to do is ask! Contact one of the tax experts at The Shared Economy Accounting Group today! To learn more subscribe to our newsletter.

Related Articles
Tax Preparation For Peer-To-Peer Car Sharing Turo & Getaround
Selecting an App to Track Business Time